Special Events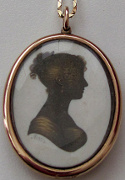 Silhoutte Jewelry
Regency Period Antiques at the AGM
Exhibit Hours from Thursday through Saturday to be Announced
Our Regency Room will feature items from the Regency Period Collection of Candice Hern. If you're unaware of her many treasures, you can view them online at www.candicehern.com. Some of the items to be exhibited include: Georgian and Regency jewelry, scent bottles, vinaigrettes, purses, bat-printed porcelains, glassware, fashion prints, painted silhouettes, shoe buckles, quizzing glasses, fans, and more. The exhibit will also include a few pieces of period furniture and paintings. Candice will talk about her collection at a time to be determined.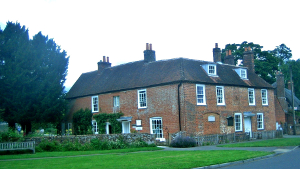 Jane Austen's House Museum
Heirlooms & Treasures of Miss Jane Austen from Jane Austen's House Museum
Exhibit Hours from Thursday through Saturday to be Announced
Louise West will be joining us for a show and tell of some wonderful memorabilia from Jane Austen's House Museum. She will bring items that pertain to Pride and Prejudice or are of general interest and will display them in the Regency Room. She will also give a short talk about the items on display at a time to be determined.
Cards and Games
Throughout the AGM
We will have a Card and Game Room set up for use anytime. There will be tables for the many card games mentioned in Pride and Prejudice as well as the Jane Austen Board Game, Jane Austen Trivia, two Jane Austen puzzles and more . . .
Pride and Prejudice: Having a Ball
BBC Production
Friday, September 27, 8:00 PM - 10:00 PM
We'll be showing the latest BBC production, an authentic recreation of Jane Austen's Netherfield Ball that explores the importance of such social functions in Jane Austen's world. The program, which will be presented by Amanda Vickery and Alastair Sooke, was filmed on location at Chawton House, Hampshire and examines all aspects of staging a Regency-era ball. A variety of experts advised on the dancing, music, food and fashion, and literary expert Professor John Mullan ensured that the ball was authentic to Jane Austen's work.
Click here for more information.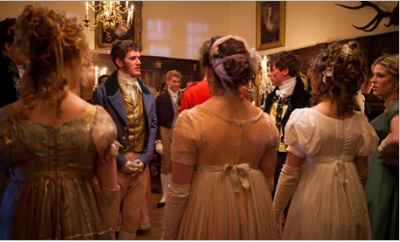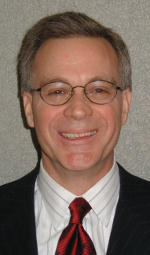 Bill Peirson: Ports of the Period
Saturday, September 28, 7:30 PM - 8:30 PM
There exists many character images in Pride and Prejudice but none quite like that of Mr. Hurst who lived his life for consumption – food, sport, (we can only assume women) and, of course, drink. If you have ever wondered what the men did while the women "withdrew" after dinner to the salon, join Bill Pierson as he reviews the various ports, sherries, brandies and other alcoholic beverages that men of Regency England consumed.
Bill Peirson practices real estate law in Dallas, Texas and has attended multiple AGMs – as his wife's arm candy! He is a dedicated member of the North Texas Region and developed the "Manly Pursuits" theme for the 2011 AGM in Fort Worth.
Whist Tournament
Saturday, September 28, 7:30 PM - 9:30 PM
Come try your hand at Whist. Nothing stirs us up like a little competition, among friends. If you'd rather just play for the enjoyment, there will be tables for that as well. There will, of course, be a prize or two.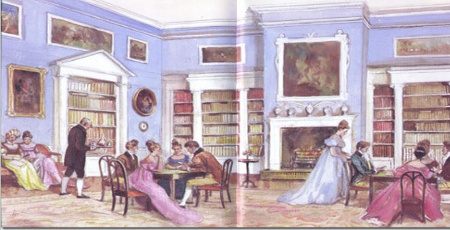 Post-AGM Evensong
Canon Musician Raymond Johnston
Sunday, September 29, 5:00 PM - 6:00 PM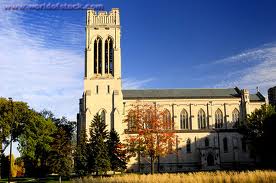 St. Mark's Episcopal Cathedral
The congregation of St. Mark's Episcopal Cathedral welcomes JASNA to an Evensong service created especially for our members. Raymond Johnson, Canon Musician, has put together a program of period music and songs of Austen's time, and one of our members will be offering Jane Austen prayers.
Raymond trained at Peterhouse in Cambridge, England, and came to St. Mark's from Kent College, where he served as Director of Music. He has worked with the Canterbury Cathedral, and composed and arranged music performed in Worcester Cathedral and Westminster Abbey.
Post-AGM Social Hour, Dinner and Entertainment
Sunday, September 29, 6:00 PM - 8:30 PM
Cost: $65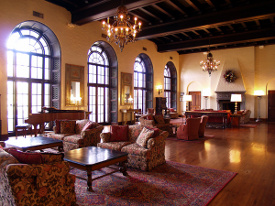 Minneapolis Woman's Club
We hope you can stay and join the Bennet Family for a social hour and dinner immediately following Evensong. Period-appropriate appetizers and a libation will be provided at the church, and dinner will be served at the Minneapolis Woman's Club, located a short half-block from the church. Hill and staff shall greet us upon our arrival with a delightfully prepared repast of Sunday Roast and Yorkshire Pudding.
Mark Turner, the king of Regency Charades, will give a short talk about charades of the period, which are nothing like the charades of today. If you choose, you may test your skills with your table mates. There is an additional fee of $65 for this event, and pre-registration is required. Attendance will be limited to 150.