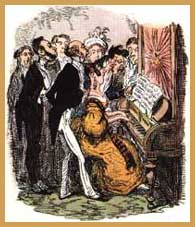 As a unique part of the JASNA 2002 conference in Toronto, The Aldeburgh Connection will be performing a concert on Friday, October 11, 2002 at 8 p.m. The Aldeburgh Connection are a highly-regarded ensemble who have been devoted to the art of song for the past 20 years. With an unrivalled line-up of Canadian singers, performing in different venues, they entertain audiences with concerts which include narrative context and complete cycles of songs.
They take their name from Aldeburgh, located on the east coast of England and the birthplace of Benjamin Britten. Aldeburgh is a centre for operatic study as the internationally-renowned Britten Pears Opera School is located there, as well as the Festival of Music which Benjamin Britten and Peter Pears founded and which still flourishes to this day. The founders of The Aldeburgh Connection, Stephen Ralls and Bruce Ubukata, have visited and worked there for many summers.
For the Toronto 2002 conference, The Aldeburgh Connection is preparing a program of period music particular to the time of Jane Austen which will delight our delegates!
For more information on The Aldeburgh Connection, please visit their website at www.aldeburghconnection.org.