For Toronto 2002, the Regency Room will present not only articles of dress, but other accoutrements from Jane Austen's time.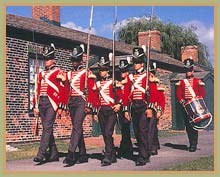 The most eye-catching item will likely be the uniform worn by Fort York interpreter/guards. This is an exact replica of the 8th (King's) Regiment uniform, produced by Tracy Gorman, Costume Technician for various museums and heritage sites of the Culture Division, City of Toronto. These uniforms demand the ultimate in research, attention to detail and plain hard work. Most demanding is the red coat, involving many hours for the tailoring and trimming. The Regency Room will allow a closeup look at this painstaking construction.
One small article on display will be a Church of England Book of Common Prayer, printed 1798 in Oxford by Clarendon Press. It is inscribed in careful calligraphy: ELIZABETH HOLBROOK'S Book, May 20th, 1805, when its owner was sixteen years of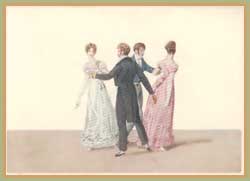 age. She married Josiah Reeder of Duffield, England, and with their five children, came to Upper Canada in 1829, travelling by sailing vessel to New York, then by barge up the Erie Canal, and finally across the lake to settle in Morpeth, Ontario, not far east of Chatham. In 1833, they moved to a farm near Ridgetown, on what is still called Reeder Line. With this book, we have a picture of Elizabeth's last resting-place, beside Josiah, in the cemetery of little Trinity Church, Morpeth, with Lake Erie visible beyond. The photo shows their tombstones, with a great-great-great granddaughter who bears the name Elizabeth Holbrook kneeling between them.
Nearby the Regency Room, you'll be able to picture yourself in Jane Austen's world! There will be life size cutouts of several figures in Regency men's or women's finery, but headless. A selection of suitable headgear will also be provided, and you can have a keepsake picture taken as if in costume. These figures will be the work of students in Visual Merchandising Arts, Seneca College of Applied Arts and Technology, Toronto.