ROYAL ONTARIO MUSEUM
This is Canada's largest museum and it houses a rare combination of decorative arts, archeology and science. We have arranged docent-guided tours which will focus on items in the collections of Jane's time. After this formal tour you might wish to spend more time in the Museum or right across the road is The Gardiner Museum of Ceramic Art (admission fee) with notable collections of 18th century European porcelain and Chinese blue and white.
Thursday, Oct. 10, 10:00 a.m.- 11:15 a.m.
Friday, Oct. 11, 10:00 a.m. - 11:15 a.m.
ART GALLERY OF ONTARIO & THE GRANGE
Docent-guided tours covering items of particular interest to Janeites have been arranged. A major aspect will be a tour of the Grange; Toronto's oldest standing brick house. See how the gentry of colonial York lived. One of the early residents, Goldwin Smith, authored (favourable) essays on Jane's writings. If you choose to walk back to the Hilton afterwards (10 minutes) you could take in Campbell House (admission fee) the oldest remaining building from the Town of York.
Thursday, Oct. 10, 2:00 p.m. - 3:15 p.m.
Friday, Oct. 11, 11:00 a.m. - 12:15 p.m.
OLD TOWN WALK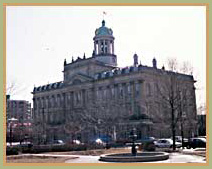 Old Town 1793, come and explore where Toronto began. The walk will cover the original eight-block layout of the Town of York (1793-1834) and a little beyond while the historic sites will include The Cathedral Church of St. James, Toronto's first Post Office (try your hand with a quill pen!)and St. Lawrence Market. Registrants will receive a map and instructions on how to reach the assembly point.
Thursday, Oct.10, 2:00 p.m.- 3:15 p.m.
Friday, Oct. 11, 10:00 a.m.- 11:15 p.m.
NIAGARA-ON-THE-LAKE
Niagara-on-the-Lake ( some 65 miles from Toronto) is probably best known now as the home of the Shaw Festival but is one of Canada's most historic towns. It was the first capital of Upper Canada (later, Ontario) and was a highly contested battleground in the War of 1812. With peace, the town was rebuilt and became a thriving centre for business, the fruit-growing industry and shipbuilding. On the walking part of the tour we will see several houses, churches and sites of Jane's period. The tour will also include Fort George which has been restored to its state on the eve of the 1812 War. Lunch will be at one of Niagara-On-The-Lakes excellent restaurants.
Thursday, Oct. 10, 9:30 a.m.- 5:30 p.m.
NIAGARA WINERY TOUR
If you like water with your wine how about seeing Niagara Falls followed by a winery tour? Start with a drive along the scenic parkway to the Falls. Lunch overlooking the Falls then on to several wineries for tasting (small charge per taste). Niagara is Canada's most celebrated grape and wine producing region. The blending of soils and temperate climate nourishes and matures grapes for the finest wines. Old and New World expertise produce wines that win many medals internationally. Ice wine is a particular specialty - one benefit of a Canadian winter!
Thursday, Oct. 10, 9:30 a.m. - 4:30 p.m.
FORT YORK BANQUET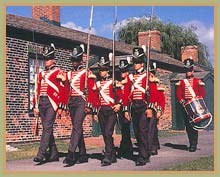 Fort York was built in 1793 to protect the new capital of Upper Canada. It was destroyed in the War of 1812 but was rebuilt in 1813. Several of the Fort's original buildings remain and we will be eating in one of them. On Sunday evening we will move (1 1/2 miles) from Toronto, 2002 to Fort York, 1812. We will be greeted at the Fort by a sentry in the uniform of the Canadian Defensible Regiment who will escort us to the two-storey Centre Block House. The lower level houses exhibits and displays depicting the Battle of York. Dinner will be served by candle light on the second level. The menu should help us to imagine ourselves in the Officer's Mess at Fort York. A fifer and drummer will further strengthen the experience.
Sunday, Oct.13, 6:00 p.m.- 10:00
ON YOUR OWN
Monday, October 14, is Thanksgiving Day in Canada so we are unable to offer customized tours that day. However the major museums and historic homes are open, commercial tours of the City and beyond are available and you can gamble - so there is plenty to do.