As a fund-raising effort to help finance the 2002 AGM, the organizational committee has produced a Conference Logo T-Shirt for sale to the JASNA membership in advance of the conference for 2002.
The logo and quotation are printed in black on one of two background colours : either Adam green (a mossy green) or a warm beige, and they come in four sizes : medium, large, extra-large and XX-large. Currently we have not ordered them in small or in children's sizes but, should anyone be interested, these could be made a part of a second order.
The quotation reads :
"I believe there are fewer neighbourhoods larger ..."
[Mrs. Bennet : P & P.].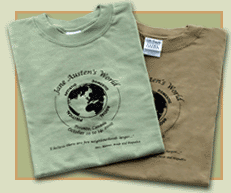 ORDERING INFORMATION
JASNA AGM 2002 T-SHIRTS

Colours:
Green ______
Beige ______
Sizes :
Medium ______
Large _______
X large ______
XXL ______

PLEASE SUPPLY ______T-SHIRTS AT $ ______

Please add quantity in appropriate spaces
Canadian members: Cdn $19.95 each, all taxes included, but with postage and packing extra, i.e. $3.00 for the first shirt, $1.00 for each extra shirt in the same package.
American members: US $18.00 each, with all taxes and postage and packing included. Unfortunately postage to the U.S. from Canada has become quite expensive.
Make cheque payable to:
JASNA AGM 2002
and mail your order to:
Clifford Collier
Conference Coordinator
Apt 205 - 100 Maitland Street
Toronto, ON Canada M4Y 1E2
Please consider supporting our fund-raising effort and place an order.
We know you will enjoy wearing a Conference T-Shirt.