Hotel
Reservations at the JASNA conference rate may be made now by clicking on this link, or by calling 800-393-2503 or 202-393-2000. If you phone, ask for the conference rate for the Jane Austen Society of North America (JASNA). The group rate is available until September 30, 2016, or until the room block sells out.
" …if you knew how Selina feels with respect to sleeping at an inn, you would not wonder at Mrs. Churchill's making incredible exertions to avoid it. Selina says it is quite horror to her… She always travels with her own sheets; an excellent precaution. Does Mrs. Churchill do the same?"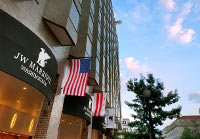 JW Marriott
No such precaution will be necessary at our AGM home, the JW Marriott. The most fastidious guests will find all to their liking at this flagship hotel, which has been recently renovated to the height of sophisticated elegance. All plenary and breakout sessions and the banquet and ball will take place in the hotel's expansive meeting space.
Location: The hotel is located on Pennsylvania Avenue in the heart of DC, conveniently near many restaurants, shops, and the Metro Center subway station. The location near the National Mall, Lafayette Square, and other historic sites makes it a great starting point for walks in the autumn air.
Rooms: all guest rooms and suites are equipped with high-speed Internet access and 37-inch HD TVs. Coffee- and tea-making equipment and a mini-refrigerator will keep you refreshed.
In-house amenities: When you get a bit peckish, you can visit Starbucks, the comfortable Avenue Grill, or 1331 Bar and Lounge. If you'd rather relax in your room, just don the fluffy Marriott robe and call for Room Service, available 24 hours a day.
JASNA Conference Hotel Room Reservation Tips
When reserving a room, be sure to specify your preference for a king bed or two double beds.
The room rate extends from Wednesday night through the following Monday, so that you can extend your stay and enjoy the tempting attractions of the DC region.
Reservations made through iPads or phones, instead of desktop or laptop computers, occasionally experience problems.
Confirmation notices will be sent through email by the JW Marriott Hotel. Be certain that your email provider settings are set to allow receipt of this email. Add tracking@pkghlrss.com and groupcampaigns@pkghlrss.com to your safe list.
Check all your incoming mail folders, not just your Inbox, for notices from the hotel. For example, check "Junk" if your provider is Hotmail.com, "Spam" if your provider is Yahoo!, etc.
IMPORTANT: Please cancel your room reservation as soon as possible if you are unable to register for the JASNA AGM or must cancel at a later date.