Travel
Emma's very good opinion of Frank Churchill was a little shaken the following day, by hearing that he was gone off to London, merely to have his hair cut.
Emma's very good opinion of our visitors would be reinforced, were she to hear that they plan to travel to Washington to learn more about her. The JW Marriott does not provide shuttle transportation, but many options for reaching the hotel are available.
Getting Here
Washington is served by three airports:
Reagan Washington National Airport, Virginia, is the closest to our hotel; you can take the Metro (our subway system) to Metro Center Station (four blocks from the hotel), or take a taxi or the Super Shuttle directly to the hotel. http://www.flyreagan.com/dca/parking-transportation.
Dulles International Airport is 27 miles from the hotel. The recently opened Metro Silver Line provides a bus-plus-Metro link to downtown Washington at an exceptionally low fare. Other ground transportation options, including Super Shuttle and taxi, are described here: http://www.metwashairports.com/dulles/.
Baltimore-Washington International Airport, Maryland, is about 35 miles from the hotel. From there, a bus/Metro connection will get you about four blocks from the hotel. You can also take the Super Shuttle or a taxi (http://www.bwiairport.com/en/travel/ground-transportation). Long-distance cab fares in this region are high, but if you can share the ride, extra passengers are just $1 each.
Washington is well served by Amtrak, and Union Station is a short distance from the hotel by Metro or taxi. Visitors from Boston, New York, Philadelphia, Richmond, and other eastern cities will find many convenient trains to Washington. If you're coming from Chicago, Cleveland, or Pittsburgh and are not in a hurry, you can even get an overnight train with a sleeping room.
Note: If you are planning to take Amtrak to the AGM, Amtrak's Convention Fare Code Number X40B-950 provides 10% off the lowest available fare price. This offer must be booked by phone at 1 (800) 872-7245 or through a travel agent. From beautiful Union Station you will be just a short Metro or cab ride to the hotel!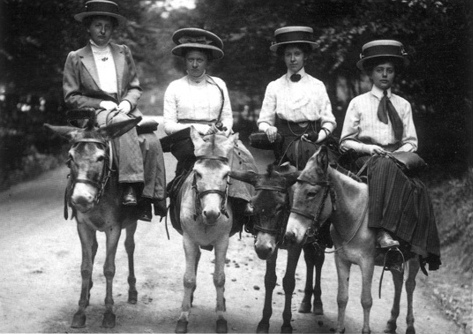 Mrs. Elton and friends on their donkeys.
Many of Emma's friends prefer to use an intercity bus service. BoltBus and MegaBus offer attractive fares from New York, Philadelphia, Boston, and other cities. Buses stop at Union Station, where you can easily get a taxi or transfer to Metro. Greyhound and Peter Pan buses often have good fares, too.
If you wish to drive your own carriage to the AGM, the JW Marriott provides garage parking. Please see the hotel website for the current rate:
http://www.marriott.com/hotels/maps/travel/wasjw-jw-marriott-washington-dc/. By using a website such as ParkWhiz (http://www.parkwhiz.com/jw-marriott-washington-dc-parking/), you may be able to find parking elsewhere at a lower rate.
Getting Around
Once you have arrived, you will find that many attractions are within walking distance. You can also move easily around the city using the safe and convenient Metro system or taxi. Taxi fares within the city are reasonable, and with two or three people sharing the ride, can be more affordable than the Metro on some journeys. The convenient DC Circulator Bus (http://www.dccirculator.com/) can take you to many must-see locations. Ride-sharing services such as Uber and Lyft are very popular here, too. Want a little exercise in the Capital City? Consider using Capital Bikeshare (https://www.capitalbikeshare.com/), which has pickup and dropoff stations all over the city. Use a bike to explore the city's many interesting neighborhoods, or just enjoy a refreshing cycle around the beautiful Mall. (Bring your own helmet!)
Click here to see a map showing the AGM hotel and nearby sites of interest including locations of special events held away from the hotel.
Whether you come in your own carriage, ride a donkey with Mrs. Elton, or kind Mr. Knightley gives you a lift, you'll find our city easy to reach and pleasant to explore.