Public Programs
The following programs at this year's Annual General Meeting of the Jane Austen Society of North America are open to the public. You do not have to register for the conference in order to attend any of these events, though you will need to purchase a ticket if you want to attend our Special Guest Lecture. All of the following events will take place on Wednesday, October 19, in the Grand Ballroom of the JW Marriott hotel, 1331 Pennsylvania Avenue, NW, Washington, DC.
OPEN-TO-THE-PUBLIC PROGRAMS ON WEDNESDAY, OCTOBER 19
4:00 - 4:30 JASNA Tours to England (free, no tickets needed)
4:30 - 5:30 International Visitor Program Panel (free, no tickets needed)
6:30 - 7:00 Introduction to JASNA ($15 ticket covers both Introduction & Special Guest Lecture)
7:00 - 8:15 Special Guest Lecture: Ken Ludwig ($15 ticket covers both Introduction & Special Guest Lecture)
8:15 - 9:00 Curators' Talk on Will and Jane (free, no tickets needed)
Introduction to JASNA
Claire Bellanti
Wednesday, October 19, 6:30 pm-7:00 pm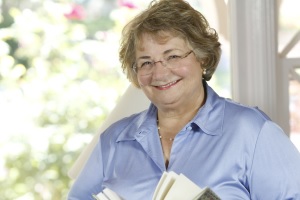 Claire Bellanti
Five thousand Austen enthusiasts of all ages and from diverse walks of life belong to JASNA, joining in the study and appreciation of Jane Austen's works, her life, and her genius. In this brief introduction preceding our Special Guest Lecture, hear from JASNA's President what the society is all about—its regional activities, publications, programs for students, and special events.
SPECIAL GUEST LECTURE
Emma's Pride and Knightley's Prejudice: Jane Austen's Comic Genius
Ken Ludwig
Wednesday, October 19, 7:00 pm-8:15 pm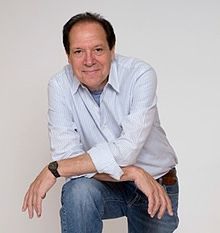 Ken Ludwig
Tickets: $15. Please click the "buy now" button to purchase with a credit card, or send a check to Debbie Duncan, Registrar, 2313 S. June St., Arlington, VA, 22202. Tickets will not be mailed. Admission will be by registration list at the door.
The multi-talented Ken Ludwig lists "all of Jane Austen" among his favorite books, and names her as his favorite writer next to Shakespeare. In a lively discussion appropriate for a general audience, Ken will discuss how Jane Austen used recurrent comic themes from Shakespeare and other prominent English comic dramatists in the construction and writing of her novels.
Ken Ludwig is an internationally acclaimed playwright who has had numerous hits on Broadway, in London's West End, and throughout the world. He has received two Laurence Olivier Awards (England's highest theater honor), two Helen Hayes Awards, the Edgar Award, and numerous Tony nominations. He has received commissions from the Royal Shakespeare Company and his plays have been performed in at least 30 countries in more than 20 languages. Some of his Broadway and West End shows include Crazy for You, Lend Me a Tenor, and adaptations of The Adventures of Tom Sawyer and Treasure Island. His bestselling book, How To Teach Your Children Shakespeare (winner of the Falstaff Award for Best Shakespeare Book of 2014) is published by Random House. He studied music at Harvard with Leonard Bernstein and theater history at Cambridge University in England. For more information, please visit www.kenludwig.com.
FREE PROGRAMS
No advance arrangements are necessary and there is no fee to attend the following talks.
JASNA Tours to England
Claire Bellanti, President, and Sheryl Craig, Editor, JASNA News
Wednesday, October 19, 4:00 pm-4:30 pm
JASNA sponsors occasional tours to England focusing on the homes where Jane Austen lived, places she visited, and sites mentioned in her novels. JASNA-sponsored tours provide entrée to private homes and special events not available to the public. The presenters will reveal highlights of past tours and answer questions about planning for future tours.
International Visitor Program Panel
Marilyn Francus, Program Chair, and Former International Visitors
Wednesday, October 19, 4:30 pm-5:30 pm
JASNA's International Visitor Program provides a JASNA member the opportunity to work on a creative or scholarly project while living in Chawton, England, for up to six weeks. Former recipients of the IVP grant will talk about their projects and their experiences living in Jane Austen's village, and the IVP chair will provide tips on applying for this special program.
Curators' Talk: Will & Jane: Shakespeare, Austen, and the Culture of Celebrity
Janine Barchas and Kristina Straub
Wednesday, October 19, 8:15 pm-9:00 pm
The "Will & Jane" exhibit at the Folger Shakespeare Library explores the parallel afterlives of arguably the two most popular writers in the English language. As household names and literary celebrities, both Shakespeare and Austen are on a first-name basis with the reading public. Since the year 2016 marks the 400th anniversary of Shakespeare's death, just as the following year will mark the bicentenary of the death of Austen, this exhibition considers the rise of literary celebrity in terms of 200-year cycles. Does today's Cult of Jane resemble the first exuberant wave of Bardolatry witnessed in the Georgian period?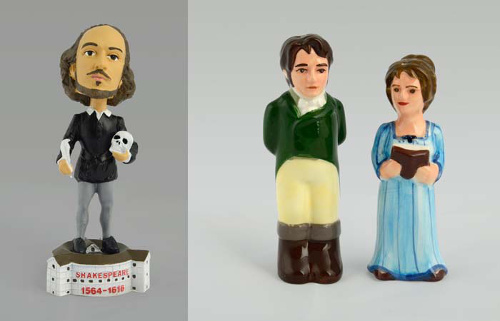 Figures of Shakespeare and of Jane Austen's best known characters, Elizabeth Bennet and Mr. Darcy.
(Folger Shakespeare Library)