Host City
" . . . none but those who invite from the heart could think capable of accommodating so many."
Persuasion, Vol. III, Ch. 11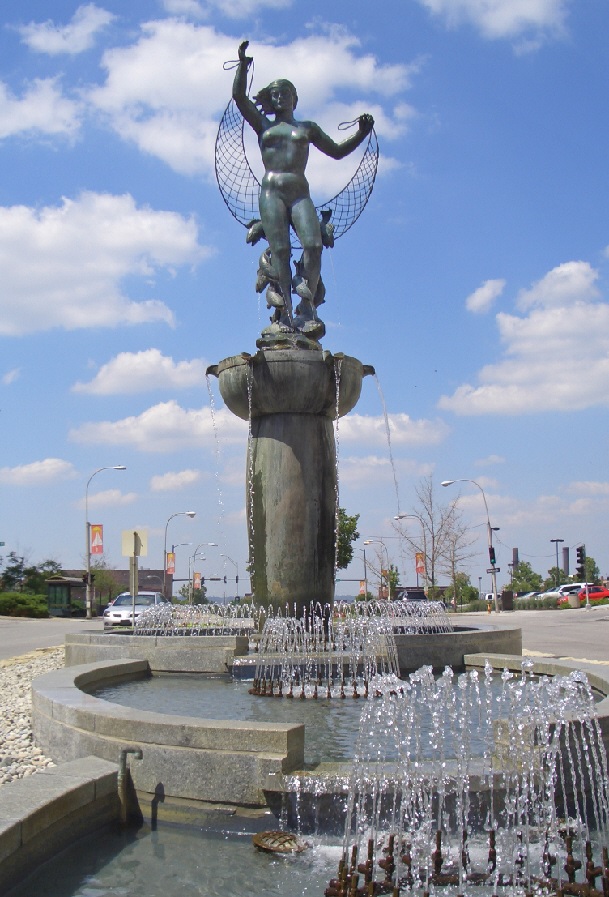 Muse of the Missouri
In Kansas City, elegance and warmth go hand-in-hand. Our stately boulevards, bountiful parks, beautiful architecture and more than 200 fountains create a grand setting for us to welcome you with characteristically Midwest friendliness.
Known as The City of Fountains, Kansas City's artistic legacy had rather practical beginnings. Early fountains were built by the Humane Society with water spigots pouring from sculpted lions' mouths. The water cascaded over tiered basins and pools so that people, then horses, and then dogs could each drink in their turn. Now graceful sculptures in bronze, lead and stone adorn majestic fountains that attract a steady stream of visitors. Figures boast prominent European sculptors from Henri-Léon Gréber to Donatello Gabbrielli. Although the majority of the fountains were built in the late nineteenth century, some of their European sculptures date back to the late Renaissance and Ancient Rome. Kansas City is second only to Rome in its number of lovely fountains.
Marvelous Musuems
Kansas City features a number of nationally recognized and regionally significant museums. Lady Russell would appreciate that specialized tours of many of these locations will be offered to AGM attendees.
The Nelson-Atkins Museum of Art is known for its neoclassical architecture and extensive collection of Asian art. JASNA members will also admire the Burnap Collection, the largest English pottery collection outside the UK, and examples from the Starr Collection of portrait miniatures. Enjoy lunch in the dramatic Rozzelle Court, styled after a 15th century Italian courtyard. In 2007, Time magazine ranked the museum's new Bloch building first on its list of "10 Best (New and Upcoming) Architectural Marvels."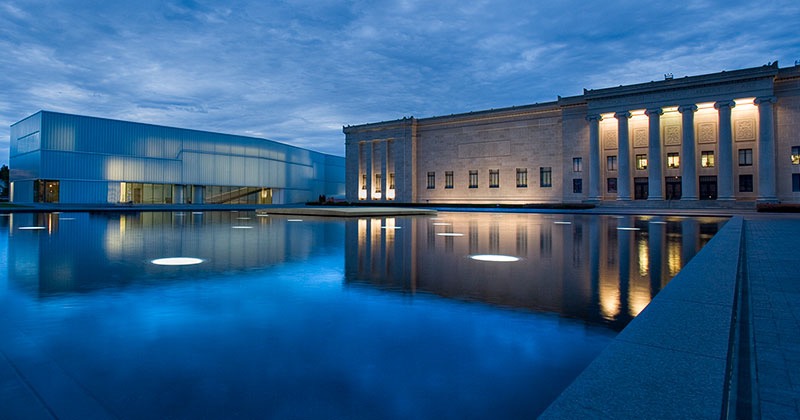 Nelson-Atkins Museum of Art
The National World War I Museum and Memorial is America's only museum dedicated to sharing the stories of the Great War through the eyes of those who lived it. Interactive displays, thought-provoking films and eyewitness testimonies help guide visitors through one of the largest collections of WWI artifacts in the world. Janeites know that the works of Jane Austen were prescribed to WWI combat survivors experiencing shell shock. We can read Austen in an armchair; soldiers read her in the trenches.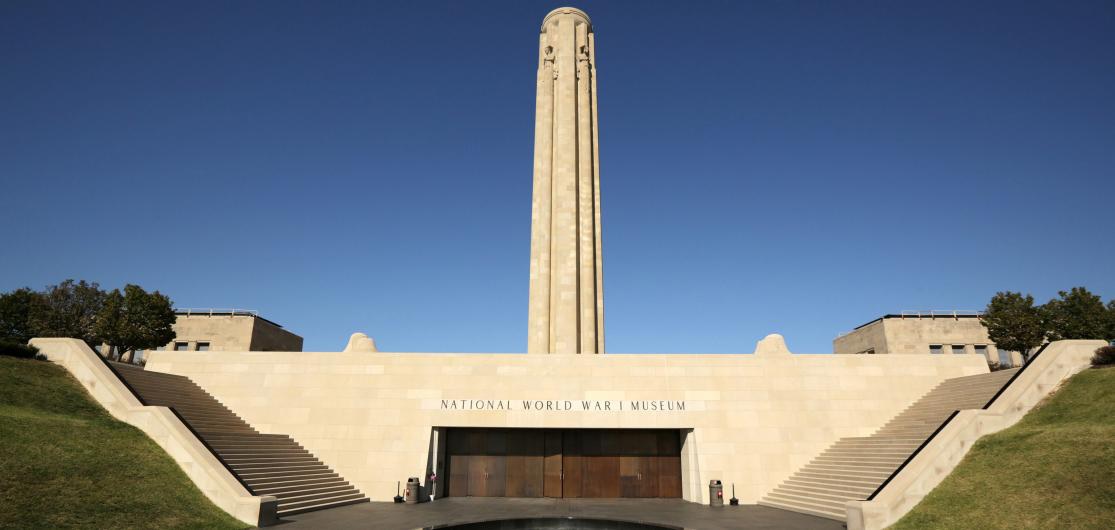 National World War I Museum and Memorial
The National Museum of Toys and Miniatures houses a collection of 72,000 objects featuring the world's largest fine-scale miniature collection and one of the nation's largest antique toy collections on public display. Take particular delight in fine-scale creations of furniture, paintings and textiles, many of which help us envision Jane Austen's word in miniature.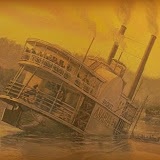 Arabia
The Arabia Steamboat Museum highlights the 1853 journey of a 171-foot paddlewheel boat (not under Captain Wentworth's command) that sank in the Missouri river loaded with 200 tons of cargo bound for the frontier. The Arabia was recovered in 1988 with remarkably preserved clothes, tools, guns, dishware and other items needed for frontier life.
Other notable Kansas City area museums:
American Jazz Museum celebrates this original American art form at the historic jazz crossroads of 18th & Vine.
Harry S. Truman Library & Museum reveals both the political and personal sides of our nation's 33rd president. Also see the Truman Home showcasing the simple life of Harry and his beloved wife Bess.
National Frontier Trails Museum marks the "jumping off point" of the Santa Fe, Oregon, and California trails. These rugged pathways and their pioneers changed the face and history of America.
Negro Leagues Baseball Museum preserves the rich contributions African-Americans made to our national pastime.
Family Friendly Crown Center Area
The AGM hotel is well situated if you want to pair your conference experience with a family vacation.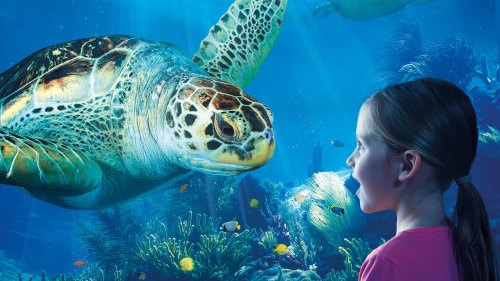 Just steps from our meeting space:
From Pit Masters to Master Chefs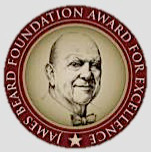 For a real taste of the city, Kansas City-style barbeque is a must. Pork, beef, chicken, turkey, mutton, even fish—we slow-smoke about anything and baste it with a thick tomato and molasses-based sauce. Note that top-rated Fiorella's Jack Stack Barbeque is within walking distance from the AGM hotel.
The city is also home to many James Beard Award winning chefs and food writers. Check out the Chow Town blog to get the daily dish on Kansas City's food and drink scene.
A digital restaurant guide will be posted prior to the AGM so that you can make plans and reservations in advance.
More Diversions than Milsom Street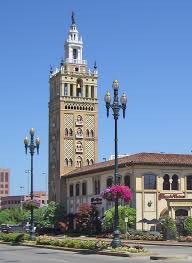 Attending JASNA's 2018 AGM puts you within or nearby Kansas City's primary shopping and entertainment districts:
Crown Center is the site of our AGM hotel and includes 85 acres of shops, restaurants, and attractions.
Country Club Plaza is known for its Seville architecture, classical fountains, horse-drawn carriages, exquisite shops and signature restaurants.
Power and Light District is an eight-block area in the heart of downtown popular for its vibrant nightlife. (See Travel page.)
Economy and Moderation

JANSA members coming from the coasts will notice our reasonable Midwest rates, even if there is no immediate need for retrenching. In Kansas City, Sir Walter Elliot would find that "he might there be important at comparatively little expense."
Bath-like Weather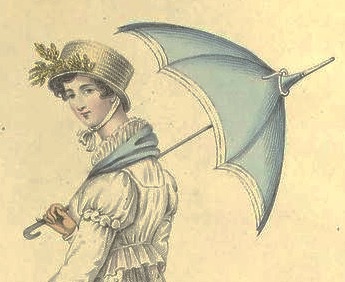 Kansas City has very nearly the same weather as Bath in late September. Temperatures average around 70 degrees in the day and 50 degrees at night. Rainfall is approximately 2 to 3 inches in September. Although it is frequently sunny, it never hurts to follow Captain Wentworth's lead and equip oneself properly with an umbrella.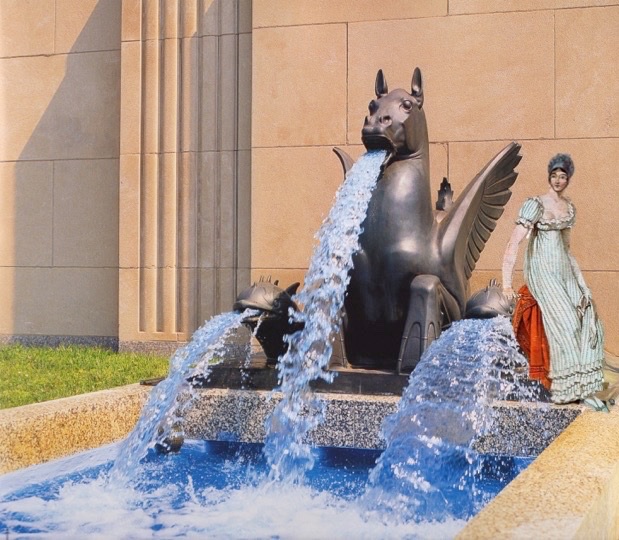 City Hall Fountain featuring mythological sea horse and dolphins
(KC fountains are often tinted blue in honor of our world-champion Royals.)