Travel
"If I loved a man as she loves the Admiral . . . I would rather be overturned by him, than be driven safely by anybody else."
Persuasion, Vol. III, Ch. 10
Expedient travel to Kansas City is far more certain than being driven by Admiral Croft. Indeed there are many efficient conveyances by air, rail or roadway. Our geographically central location means most JASNA members will spend less time getting to the Persuasion anniversary AGM—and more time enjoying it!
To KC by Air
JASNA members can grab a quick flight from most major US cities. Many airlines including Air Canada offer service from major Canadian cities to Kansas City International Airport (MCI). Take a taxi or the Super Shuttle directly to the hotel. The distance from the airport to AGM hotel 21 miles / 26 minutes. Taxi fare is approximately $50 one way; shuttle fare is approximately $18 one way.
Map courtesy of Visit KC
Air Travel from Canada:
Halifax – 7.5 hrs.
Toronto - 2.25 hrs.
Montreal - 2.75 hrs.
Calgary - 3 hrs.
Vancouver – 3.5 hrs.

Shortest Routes from the U.K.:
  - Minneapolis
  - Detroit
  - Chicago
To KC by Train
Take an Amtrak train into Kansas City's Historic Union Station then simply cross the street via covered walkway to the AGM hotel. The Missouri River Runner links KC to St. Louis. The Southwest Chief links KC to Chicago, Albuquerque and Los Angeles.
To KC by Car
Kansas City lies at the junction of four major interstate highways: I-35, I-70, I-29 and I-49. A dozen JASNA Regions are within a day's drive of Kansas City. The Westin Kansas City at Crown Center provides garage parking. Please check the hotel website for current rates.
Within KC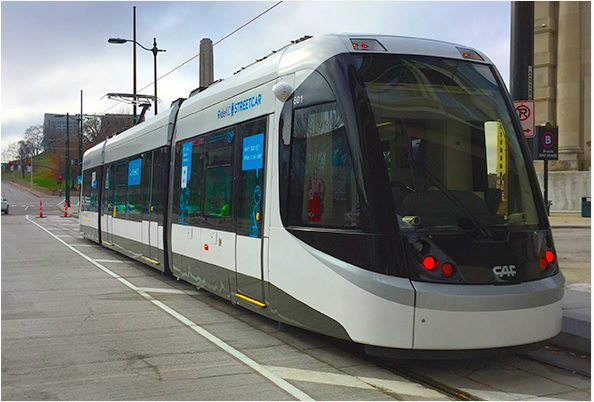 Kansas City Streetcar
The AGM hotel offers complimentary shuttle service for late afternoons/evenings in the Power and Light District and the Freight District.
Our FREE Ride KC Streetcar connects our AGM hotel to 16 points northward between Crown Center/Union Station and the Historic River Market.
Take the Main Street Max bus southward from Crown Center to the elegant Country Club Plaza shopping and entertainment district.
Call a taxi for other destinations:
Checker Cab: (816) 444-4444
Yellow Cab: (816) 471-5000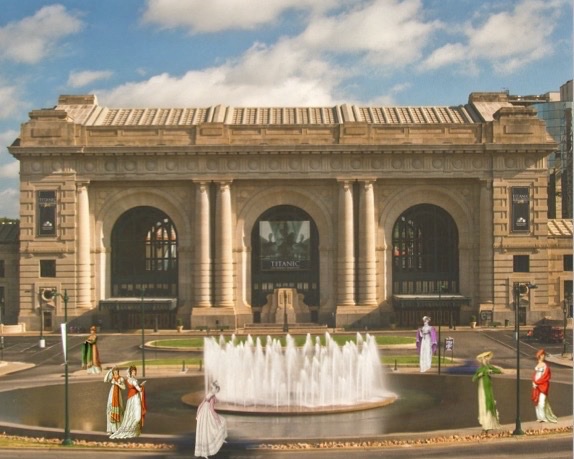 Bloch Fountain, Union Station, performs a series of kinetic sequences ranging
from quietly formal to vibrantly grand.