Registration
"I am half agony, half hope."
Persuasion, Vol. IV, Ch. 2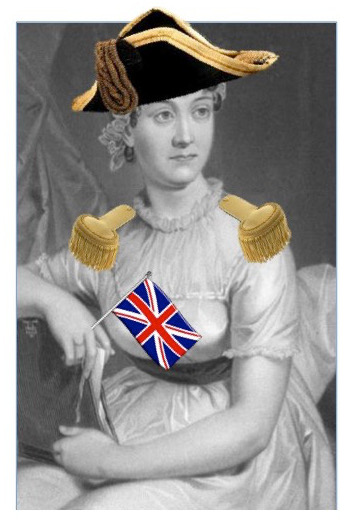 AGM Registrations Fees
$275 Early Registration (online/postmarked on or before June 30)
$325 Regular Registration (online/postmarked on or before August 15)
$175 Companion Registration (See AGM FAQs for details.)
Eligibility
ATTENDEES: JASNA members (ninth grade or higher in the case of students) in good standing may register.

COMPANIONS: A limited number of Companion spaces are available. When sold out, a Companion Waitlist will be kept. An Attendee may have no more than one Companion. Companion registration provides admittance to only the following: Saturday Continental Breakfast, Saturday Banquet, and Sunday Brunch with speaker. Companions may also purchase tickets to fee-based tours, programs, and workshops. Companion registration does not include attendance at Plenary Sessions, Breakout Sessions, and programs labeled as Special Interest Sessions. If you wish to attend any of these programs, you must register as an Attendee.
Before Registration

JASNA has moved to an online registration system for the AGM. A Registration Guide is available to help you prepare. Print it, mark your selections, and be poised at your computer ready to register online.
It is to your advantage to register online: mailing the form does not increase your chances of getting into the AGM. The Registrar will hold any paper forms received prior to registration and open them only when online registration has begun.
Ask a friend to register for you if you will be unavailable or out of town on May 9. The online system does not verify the identity of the person registering.
Review the AGM Frequently Asked Questions. Direct questions about this year's AGM program to PersuasionAGM@outlook.com. Direct policy-related questions to the Vice President for Conferences at vpconf@jasna.org.
Reserve a hotel room. If the AGM room block is sold out for some or all nights, or your room type is not available, we advise you to reserve the next best available rate or room. Call the AGM hotel at 888-627-8538 for help. Don't let room availability discourage you from registering for the AGM. After registration, we typically experience a number of room cancellations and can usually transfer people to their desired rate and room type.
Computer Tips:


Use a laptop or desktop computer, not a tablet or smart phone.
Add

events@regonline.com

to your email safe list to receive confirmation emails.
Add

PersuasionAGM@outlook.com

to receive registration status changes and AGM updates.
Consider changing your spam filter to a less restrictive setting during registration.
Use the same email address for all correspondence regarding registration. The system saves and recognizes the first email address you use.
Check junk/spam folders regularly for registration emails gone astray.
During Registration

Begin promptly when registration opens and complete the process without delay. Most people register in a few minutes, but the system is set to allow 90 minutes for completion. Your computer may time out after a shorter period of inactivity.
Navigate the 5 pages: Start, Personal Information, Agenda, Checkout, and Confirmation. You can go back and forth between the pages. After entering your payment information, be sure to click "Finish" at the bottom of the Checkout page.
If you have difficulty, email PersuasionAGM@outlook.com and include your phone number. We respond to questions as quickly as possible. Unless you're experiencing technical issues, do not stop registering. You will risk places becoming sold out. We can help you make adjustments later.
Register yourself first, then a Companion or another Attendee. To register a second person, return to this webpage and click the registration link. You can use your email address or that of another person you are registering. If you register your companion under your email address, ignore any messages to confirm your email address. Simply click "Start a New Registration."
You do not need to pay online: the Registrar will hold your reservation for 14 days awaiting your check by mail.
Waitlists

Attendee waitlist: If Attendee spaces at the AGM sell out, the online system will keep a waitlist. If a space becomes available, you will receive an email link enabling you to complete your registration. Note: Some registration spaces are initially held back in case of system errors. These are released within a few days. Also, cancellations occur in the months leading up to the AGM. Add your name to the waitlist to have a chance of attending.
Event/workshop/tour waitlists: The online system keeps a waitlist for optional events that sell out. If you're on an event-specific waitlist, you will automatically be added if space becomes available.
Companion waitlist: To be added to the Companion waitlist, please email PersuasionAGM@outlook.com with "Companion Waitlist" in the subject line. We will notify you if a space becomes available.
Mail-In Registration

JASNA accepts mail-in registrations to assist those few members who do not have internet access. It is to your advantage to register online: mailing the form does not increase your chances of getting into the AGM. The Registrar will hold any paper forms received prior to registration and open them only when online registration has begun.
To register by mail, use the registration form in the Registration Guide. Include a check or money order in U.S. funds payable to "JASNA 2018 AGM." (Credit Card payment not accepted for mail-in registration.) Mail to Registrar by deadlines shown. You will be contacted as to the status of your registration.
After Registration

If you are paying by check, please mail your payment. Checks must be received within 14 days.
Check for an email acknowledging your registration. Your registration will be marked PENDING until your payment is received and your JASNA membership status is checked. At that point your status will be changed to "CONFIRMED." If you have not received a confirmation message within 21 days, please contact us.
As long as you clicked "Finish" and saw the confirmation screen, you may ignore any additional email asking to verify your email address. (These emails are a quirk of the registration software.)
You cannot change your registration online, but you can email the AGM Registrar to have changes made for you. JASNA is charged for changes, so please make your plans carefully. If you require a change, email details to PersuasionAGM@outlook.com. The deadline for changes and refunds is August 20, 2018.
If you need to cancel your registration, please notify the Registrar at PersuasionAGM@outlook.com. Refund of the AGM fee (minus $75 handling fee) will be given for cancellations postmarked or emailed by August 20, 2018. Partial refunds cannot be given.
During the summer, helpful bulletins will be sent to AGM registrants. Please watch your email and read these updates to make the most of your AGM experience.
JASNA does not conduct roommate referral. We recommend you reach out to other members in your Region if you need to find a roommate.