Fort Worth – Cowboys and Culture:
Sense and Sensibility Texas Style
Welcome to "Cowtown," Fort Worth, Texas, the 17th largest city in the United States and one of "America's Most Livable Cities." Boasting a duality reminiscent of that in Sense and Sensibility, Fort Worth blends its rich western heritage with cosmopolitan ideas. It is a unique city with a "down home" charm that has something to appeal to everyone whether your hero is Colonel Brandon, Picasso, or Roy Rogers.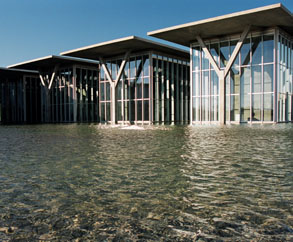 Modern Art Museum
Can't go to London with Mrs. Jennings? Then during the AGM don't miss Fort Worth's Cultural District, the third largest cultural district in the United States. There you can explore the world-famous collections of five wonderful museums situated in beautiful park-like settings. The Modern Art Museum, The Kimbell Art Museum, and The Amon Carter Museum, are located within walking distance of each other. Bass Performance Hall is the permanent home to the Fort Worth Symphony Orchestra, Texas Ballet Theater, Fort Worth Opera, and the Van Cliburn International Piano Competition and Cliburn Concerts.
Invited to Colonel Brandon's Delaford but don't have anything to wear? Whether you chose blue jeans or a ball gown, you will always feel at home in Fort Worth. In addition to being known around the world for its cultural district, the city is steeped in and proud of its western heritage. AGM attendees will be able to experience the "old west" first hand with the daily cattle drives through downtown. Visitors can also experience Billy Bob's, the Stockyards National Historic District, the Cowtown Coliseum and Rodeo, Grapevine Vintage Railroad, the Cowgirl Hall of Fame, and the Will Rogers Memorial Center.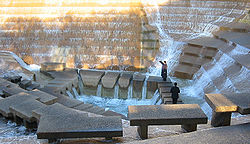 Water Gardens
Feeling a little short on cash like Elinor and Marianne? Take the tour at the Bureau of Engraving and Printing (one of two places that produce our U.S. paper currency). During the 45-minute visit you can see the production facility and learn about anti-counterfeiting features that are used on bills. Trying to avoid the Steele sisters? The Fort Worth Water Garden, designed by Philip Johnson, is a lovely place to relax and contemplate your loss of fortune.