J. David Grey Young Writers' Workshop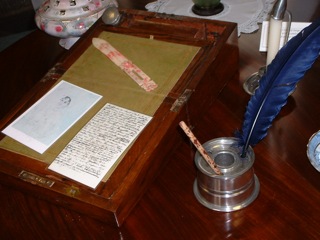 Jane Austen's writing desk.
Photo courtesy of JaneAusten.org
The 2011 J. David Grey Young Writers' Workshop is a JASNA-funded writing workshop for high school students living in the North Texas area. The workshop, which is limited to 25 students, will be held on Saturday, September 10, 2011, at Collin College – Plano Campus from 1:00 PM until 5:15 PM. Deadline for applications to participate in the workshop is June 3, 2011.
The writing topic will relate to the theme of the AGM – "Jane Austen: 200 Years of Sense and Sensibility." The writing workshop will include a lecture by well-known author Carol Adams entitled "Your Sense and Sensibility: How to Trust Yourself as a Writer."
The workshop is an outreach activity whose purpose is to increase student awareness and understanding of Jane Austen's works and is named after one of JASNA's founders, J. David Grey. The Joan Austen-Leigh Prizes are awarded to the top three winners of the writing workshop and the winners and their guests will be invited to attend the Sunday AGM Brunch on October 16, 2011. The students will also have their essays published for the AGM attendees.
Schedule for Workshop
| | |
| --- | --- |
| 1:00-1:15 pm | Attendees arrive and sign in |
| 1:15-1:30 pm | Introductions/Social Time with Coffee/Tea/Cold drinks – cookies, scones, fruit |
| 1:30-2:15 pm | Author Carol Adams speaks to students |
| 2:15-2:30 pm | Break/questions – refreshments still available |
| 2:30-3:30 pm | Screening (Episode 1, 2, or 3) of Andrew Davies's Sense and Sensibility |
| 3:30-5:00 pm | Students write essays |
| 5:00-5:15 pm | Questions and Adjournment |
High School teachers in the North Texas area are invited to encourage students to participate in the workshop and become more familiar with Jane Austen and her work.
Questions? Please e-mail jasnaagm2011@gmail.com.
—Peggy Brown and Dallie Clark
J. David Grey Young Writers's Workshop Chairs