Local Attractions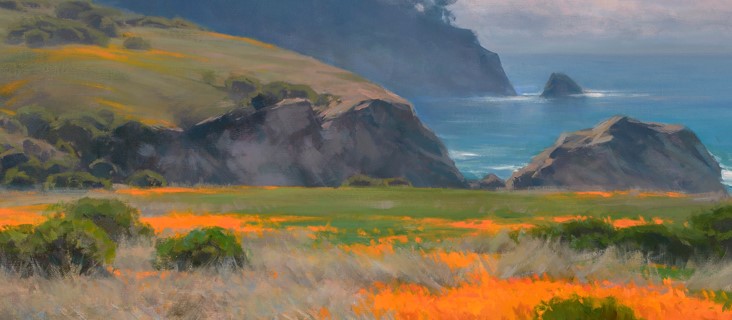 Jesse Powell, Spring Bloom, Pt. Lobos (detail), Courtesy of the Irvine Museum
In Orange County, world-class colleges and universities, entertainment and cultural institutions augment the area's natural beauty. Some of California's greatest beaches are in Orange County as well as harbors, hiking trails and regional parks. If you can extend your stay in Southern California, you may wish to sample these opportunities as well as other unique travel adventures.
The Hyatt Regency's Guest Services Manager, Omar Hatoum, is eager to help you make arrangements for these or other tours. Contact him at 714-845-4850 or Omar.Hatoum@hyatt.com.
Queen Mary
When the Queen Mary embarked from Southampton on her maiden voyage on May 27, 1936, she set a new benchmark in luxury transatlantic travel. Guests will have the opportunity to explore the ship from bow to stern with expert guides.
Irvine Museum
California's own Impressionist movement in the late 19th/early 20th century forever preserved the rugged and windswept landscape of Orange County. Hundreds of works painted in plein air style are housed at the Irvine Museum about 5 miles from Huntington Beach.
Dolphin Safari
Climb aboard a 35-foot catamaran and prepare for a joyous exploration of the Pacific Ocean and its friendly flippered residents on a Dolphin Safari. With Coast Guard licensed Captain Dave Anderson, an experienced marine naturalist, see pods of 200 to 10,000 dolphins, as the unusually deep coastal canyons of Dana Point are host to the largest collection of wild dolphins in the U.S!
South Coast Plaza
For the retail inclined, a visit to the internationally acclaimed South Coast Plaza is a real treat. Experience the lovely, outdoor Fashion Island mall in Newport Beach, perched on a rise with spectacular views of the ocean.
Newport's Classic Electric Duffy Boat Ride
Orange County's jewel city, Newport Beach, has one of the finest (and most opulent) harbors on the West Coast. Get a closeup glimpse of magnificent homes and flaming sunset on the Duffy Boat Ride. Wine, beverages and light snacks are served.
Segerstrom Center for the Arts
Orange County's beloved Segerstrom Center for the Arts is just seven miles from the hotel, adjacent to South Coast Plaza. The Center's 14-acre campus is home to the Pacific Symphony and Pacific Chorale, South Coast Repertory and is the future home of the Orange County Museum of Art.
Disneyland
And of course, Mickey Mouse can be found at Disneyland, just 16 miles from the hotel.