Call For Films
JASNA invites you to submit your short film (five minutes or less) to our inaugural Young Filmmakers Contest, part of the 2017 AGM commemorating the 200th anniversary of Jane Austen's death.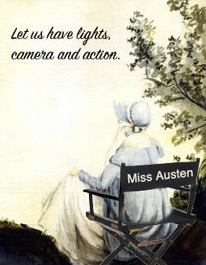 Works must be five minutes or less in duration, shot in widescreen format, submitted as an MP4, and adapted from or inspired by Jane Austen's writing or life, and relate in some way to the theme "Jane Austen in Paradise." They may be comedies, dramas or documentaries in live action or animation. They may be modernizations or mashups of Austen and another public domain author. They may be set any time from the Regency era to the present or even in the future. They may be cast with puppets, pets or people. We urge entrants to use their imaginations. The deadline for submission is July 21, 2017. Entry is free.
Who is eligible:
Students at the high school, undergraduate and graduate-school levels. (If you are graduating in spring 2017 but were a student during the 2016-17 academic year, you are still eligible.)
Awards:
Judges will select up to three winners in each of the three divisions (high school, college and graduate school). A "crowd favorite" award will be bestowed on the favorite submission selected by JASNA members.
Winners will receive:
Cash prize ($250 for first place; $100 for second place; $50 for third place)
Paid registration for the AGM on Friday, October 6 (one representative from each winning film)
Invitation to a special filmmakers dinner on Friday, October 6 (one representative from each winning film) and screening of the 2016 film Love and Friendship written and directed by Whit Stillman, who will be in attendance
One-year free membership in JASNA
Screening of the winning videos at the AGM, on the JASNA and JASNA-Southwest websites, and our YouTube channel
Judges will include film industry professionals as well as faculty from Southern California film schools. All juror decisions will be final.
View the rules and regulations and download an entry form and send to jasnasw@jasnasw.com.