Day Passes
Want to join us for the 2017 Annual General Meeting of the Jane Austen Society of North America in Huntington Beach but cannot attend the entire conference?  Have a friend you want to introduce to JASNA and the world of Jane Austen? Know a student you'd like to encourage to attend for a day? 

Day Passes are available for the conference until September 27.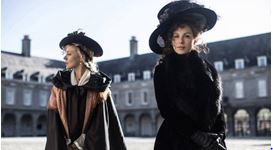 Friday, October 6--$110
Day pass includes access to:
dance, silhouette, straw bonnets and reticule workshops (for an additional fee) 
special interest sessions (Starting a Jane Austen Reading Group, Jane Austen International Visitor Program, Jane Austen Churches), 
keynote address by Dr. Gillian Dow (The Immortal Jane Austen and Her Best-Loved Heroine: 1817-2017)
three breakout sessions 
an interview with filmmaker/author Whit Stillman 
screening of his film Love & Friendship 
Saturday, October 7--$220 
Day pass includes: 
continental breakfast 
plenary address by Dr. Devoney Looser (After Jane Austen) 
three breakout sessions 
authors' book-signing event featuring 18 writers 
banquet 
Regency ball 
two special interest sessions (Austenesque Writing Panel and The Battle of Prague Programmatic Sonata) 
Sunday, October 8--$75 
Day pass includes: 
musical presentation of Jane Austen Prayers by composer Amanda Jacobs and a choir from Huntington Beach's Academy of Performing Arts 
brunch 
address by Austen family descendant Richard Knight (The Austens' Knight in Shining Armour) 
See the AGM schedule at jasna.org/agms/huntington/schedule.html for program times. 
Use  your credit card or PayPal  to register for the FULL AGM or for DAY PASSES at    jasna.org/agms/huntington/registration.html. 
Be aware that the deadline for registration refunds has passed. No refunds will be available for either full registrations or day passes.  Also, please note that you must be a member in good standing of JASNA to attend any AGM session. You may join or renew your membership at jasna.org.