Tours
Please note the changes in dates and times for the Nixon Library Tour and the Getty Museum Tour.
These tours are not included in the AGM registration fee and require tickets, which can be purchased on the registration form. (There is no affiliated tour company handling these excursions.) Transportation is included in the price.
May we suggest … If you can extend your stay in southern California, you may wish to sample some of the other exciting and unique travel adventures featured on the Local Attractions page.
J. Paul Getty Museum
Wednesday, October 4, 9:00 am-4:30 pm (schedule change), $45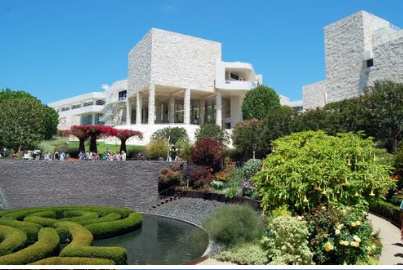 No trip to Southern California is complete without a visit to the J.Paul Getty Museum at the Getty Center, Los Angeles. The architecture itself is well worth the visit. Designed by famed Architect, Richard Meier, it is perched high above the city providing a near 360 panoramic view of the surrounding city, mountains, and beaches. The grounds include a Central Garden created by artist Robert Irwin that lies at the heart of the Getty Center. The 134,000-square-foot design features tree-lined walkways, a running stream, waterfalls, myriad plants and a hedge maze.
The museum's permanent art collection includes paintings, drawings, sculptures, illuminated manuscripts and photography. Works by Gauguin, Rembrandt, Monet, Manet, Renoir, and Cezanne, along with Van Gogh's Irises purchased by the Getty for $53.9 million, are among the many treasures. In addition, two special exhibits will be shown in October: The Birth of Pastel, a sumptuous collection of masterpieces from the late 17th and early 18th Century; and Golden Kingdoms, a showing of 250 masterpieces of luxury arts from the Americas from 1000 BC to the arrival of the Europeans.
Lunch is not included; however, a self-serve cafe as well as a full-service restaurant serve tasty meals at reasonable prices.
This excursion involves bus steps and considerable walking; however the Getty Center is wheelchair accessible with elevators throughout. A tram takes all visitors from the lower parking area to the Center entrance and it is accessible for visitors using wheelchairs as well.
Hilbert Museum of California Art and Bowers Museum
Wednesday, October 4, 10:00 am-3:30 pm, $65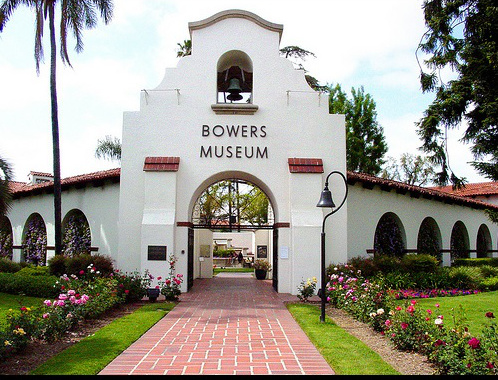 Members on this excursion will visit two unique and noteworthy art museums via deluxe motor vehicles. Lunch is included.
The Hilbert Museum of California Art is the renowned showcase of California Scene Paintings, a genre which arose in the early 1900s to capture the regional spirit of the Golden State with epic landscapes and expressive scenes that depict narratives of people's everyday lives. The museum includes the work of well-known artists such as Rex Brandt, Millard Sheets, Dong Kingman, Emil Kosa Jr., Mary Blair, and Phil Dike. Mark Hilbert himself will lead members on a tour of this amazing collection.
The Bowers Museum, housed in a California mission-style building in Santa Ana's historic district, is where we'll enjoy a delicious lunch at the Tangata Restaurant housed within. The Bowers' vast collection represents many regions and cultures of the world. A docent-led tour will give us the "Best of the Bowers." Before we leave, we'll have time to shop and enjoy a 20% discount in the Gallery Store, a cultural experience all its own!
This excursion involves bus steps and considerable walking. Both museums are wheelchair accessible.
A Day at the Huntington Library, Art Collections, and Botanical Gardens
Thursday, October 5, 8:15 am-5:30 pm, with transportation from the hotel, $140
9:30 am-5:30 pm, without transportation from the hotel, $110
See the Huntington Pre-Conference page for details.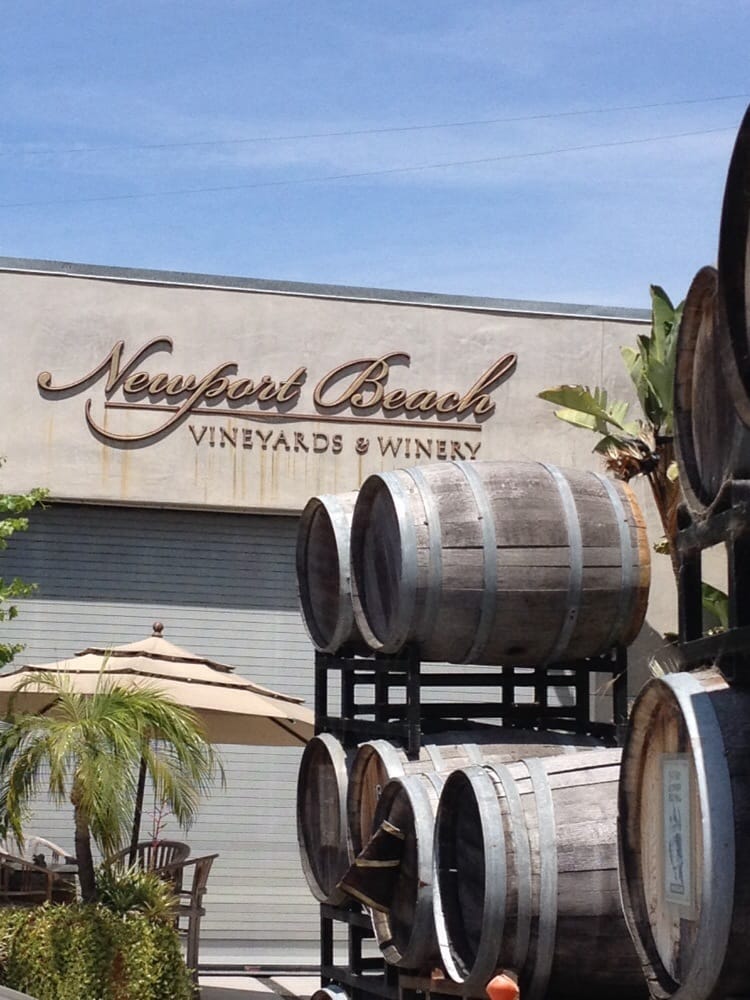 Newport Beach Vineyards & Winery Excursion & Lecture: "Drinking with Jane Austen"
Sunday, October 8, 1:00 pm-4:00 pm, $90
Go on this fabulous trip to the Newport Beach Vineyards & Winery. After a tour of the vineyards and gardens at this unique, family-owned venue, participants will sample a flight of four local vintages, accompanied by artisanal cheeses, fresh and dried fruits, charcuterie, bread, and crackers. We will then repair to a wine cave to hear culinary historian Richard Foss discuss the details Austen left out when she wrote of elaborate banquets and parties—what refreshments, both alcoholic and non-intoxicating, were enjoyed in the England of her day—and how Austen delineated characters by what they chose to drink or serve.
Please note that considerable walking is involved: sensible shoes advised!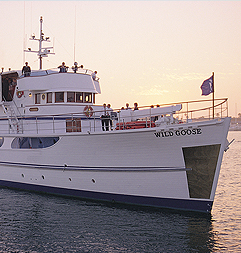 Wild Goose
Sunset Dinner Cruise Aboard John Wayne's Yacht
Sunday, October 8, 4:15 pm-8:30 pm, $98
Celebrate the end of AGM 2017 with a 3 hour Sunday night dinner cruise out of stunning Newport Harbor. Once the private yacht of legendary actor John Wayne, the Wild Goose was launched in 1942, and boasts three decks of attractive woodwork, Wayne-inspired paintings, and other unique amenities, making a cruise aboard the Wild Goose a one-of-a-kind experience.
Dinner is a four-course Latin Buffet of Romaine Salad with Cilantro-Orange Dressing and Crispy Tortilla Strips; Spanish Rice; Three Cheese Enchiladas; and Marinated Chicken Fajitas. Soft drinks are included; wine and cocktails are available for purchase.
Please note that passengers must board the Wild Goose via a sloping gangplank with handrails.
Tall Ships San Diego/San Juan Capistrano
Monday, October 9, 7:15 am-6:00 pm, $135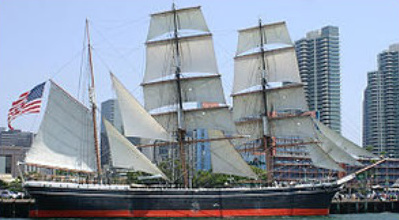 The Star of India
Prepare for an exciting visit to San Diego's Maritime Museum, where you will explore three tall ships. The San Salvador is a replica of the ship Juan Rodriguez Cabrillo sailed into what is now San Diego Harbor on September 28, 1542. The Surprise, used in the film Master and Commander, is a replica of HMS Rose, a twenty-gun sixth-rate frigate built in 1757. The Star of India, a full-rigged iron windjammer built in 1863, is the world's oldest active sailing ship.
A special surprise guest speaker on board the bus will prepare us for our visit, and once we arrive, expert guides will explain the maritime history of the ships and sailing in the Regency period. We'll then enjoy a gourmet box lunch at Point Loma, the first landing place of Europeans in California in 1542, with sweeping views of the ocean and exquisite San Diego harbor.
Later, we'll head to San Juan Capistrano for a tour of the famous Mission and tastings of California wines and olive oils. Our thanks to JASNA's San Diego Region for arranging what promises to be a truly memorable day!
Please note that this all-day trip involves stairs, narrow passageways, and some walking. Sensible shoes are recommended.
Nixon Library and Birthplace
Monday, October 9, 10:00 pam-2:00 pm (schedule change), $65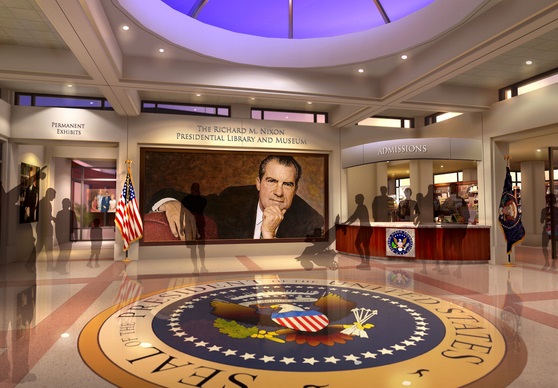 Recently reopened after a $15 million renovation, the Nixon Library provides a "You Are There" experience through the richly historical Nixon years. This highly rated museum features 70 new exhibits with more than 300 original artifacts, historic film sequences, custom interactive activities, and 30 unique multi-media experiences, and includes a special Watergate exhibit. The place where President Nixon was born and raised, a 900 sq.ft. farmhouse with 85% of its original furnishings, is also on the property. Nearby is the gravesite of President and Mrs. Nixon. A box lunch will be provided.
This excursion involves bus steps and considerable walking. Most buildings are wheelchair accessible. There are four wheelchairs available for use on a first-come, first-served basis.